Press. Drop. Delivered.
Industrial vending solutions
Eliminate stock-outs and line-downs with bespoke, realtime inventory management and automated MRO dispensing.
Check the benefits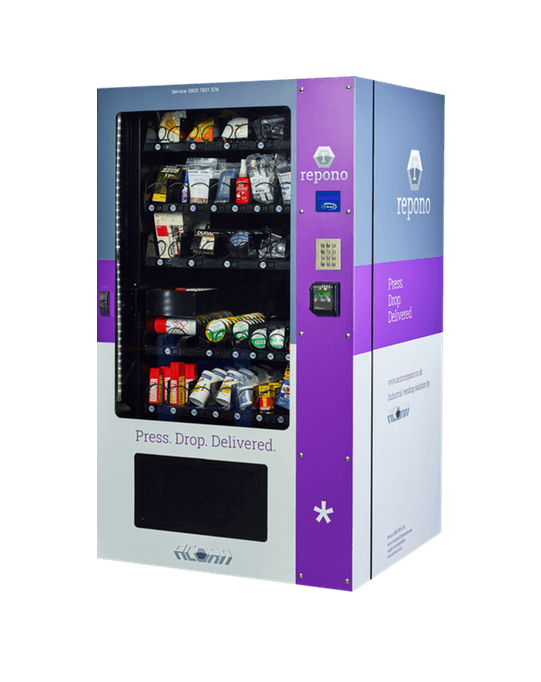 Find out more how our industrial vending solution can save you money, time and admin.
Repono is an easily deployed
industrial vending solution
As a standalone plug-in to the production line, or as part of a full VMI (vendor managed inventory) roll-out, Repono offers remote, realtime inventory management for MRO shop floor consumables, along with tool and PPE supply.
Your vending and locker solutions are delivered as a plug-in solution to your production line, configured and managed by our expert team.
Automated replenishment, triggered through internet-enabled stock monitoring. Custom configurations based on individual assembly cells.
Efficient stock control, elimination of wastage, and point-of-work delivery delivers substantial inventory and time savings.
Automated inventory management system
Repono industrial vending
Bring your storeroom right next to your production line
Always-on high-density supply and tooling dispensing.
Managed replenishment eliminates stock-outs.
Tailor SKUs to individual assembly cells.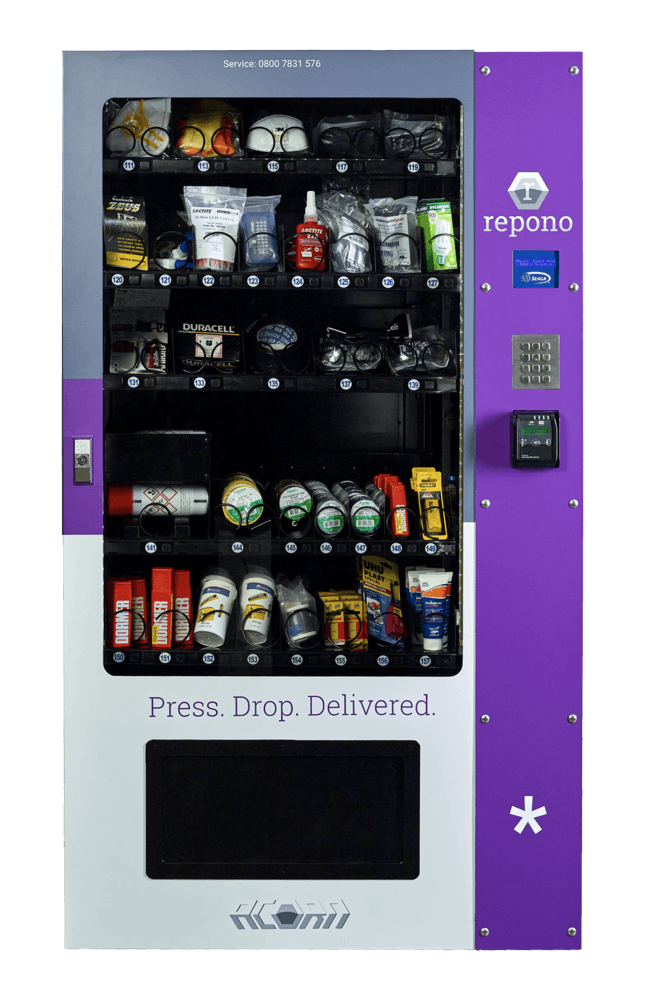 Ensure adherence to workplace health and safety policies.
Defend against wastage, theft and litigation.
Creates efficient stock usage. Limit employee permissions.
Unmonitored central stockroom?
Bad idea.
Workers wandering around the factory searching for tools? Problems with unrecorded and incomplete transaction data? A stockroom with scattered, and randomly opened boxes? The undisciplined foraging for supplies.
Sound familiar?
These problems with legacy supply and the central stockroom can be easily fixed. The beauty of industrial vending is in the simplicity of plugging it into your factory floor and production process. It eliminates the confusions and inefficiencies of traditional tool and point-of-work supply. It gives workers the convenience and efficiency of having the right equipment to do their job immediately at hand.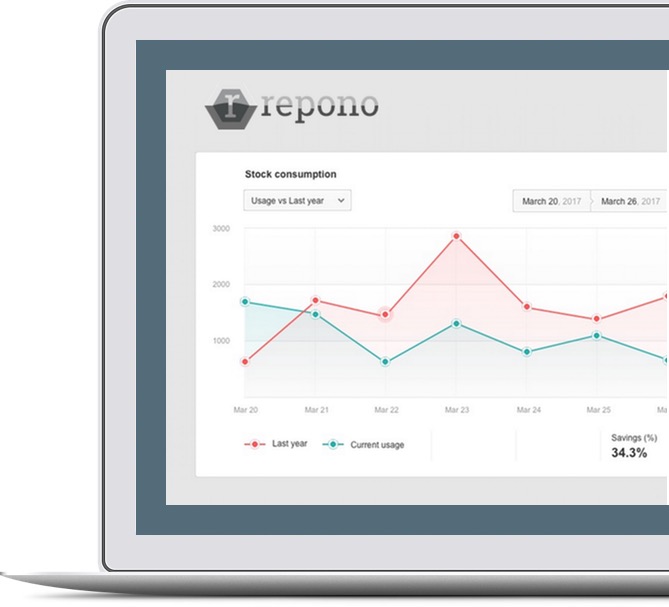 Frequently Asked Questions
Why choose Acorn Repono?
We are unique in the market in creating Repono as a direct response to our experience of client needs and interaction, as a partner with them in developing inventory and supply chain operations.
Acorn Industrial Components have 30+ years of expertise in supplying mission critical parts and supplies to UK manufacturers. We have extensive experience with our OEM clients in streamlining inventory and optimising logistics.
We developed the Repono industrial vending solution as a direct result of servicing these relationships. We wanted to address specific pain points based on customer requirements.
What are the key savings?
We are confident any solution we offer will pay for itself in short order through direct cost savings.
These include:
Reduction in total inventory costs typically between 20-40%.
Eliminate supply-related administration costs to near zero.
Time savings can increase individual assembly cell productivity by up to 50%.
Limit resources expended on worker-related inventory through accountability, tracking, and procurement.
How do I get the right solution?
The beauty of automated vending solutions is how easy they are to plug in to diverse manufacturing environments however big or small.
Our easy 5-step process: Consult. Setup. Deliver. On-site install. Stock and replenish.
We offer a free, no-obligation consultation as part of a rapid process to implement the right configuration for you. From how many machines you need (including carousel and lockers), to where best to place in your production facility, and what items to supply per production line.
Which areas in the UK do you service?
From our warehousing in East Sussex we can deliver to most of the South of England. We handle all on-site servicing needs, including stock replenishment and supply reconfiguration.
If you are further afield we can provide you with a DIY replenishment offer where parts are shipped as a trackable package for you to manually fill the vending machines on-site.
What equipment can it hold?
A massive variety is the short answer.
Long answer:
MRO supplies — extensive selection of maintenance, repair and operating supplies. We've sourced over 30,000 different and unique items, and apply the same knowledge to get you exactly the right items for your unique requirements. Perfect for consumables, industrial equipment and plant upkeep supplies, including batteries, lubricants, tape, disposable gloves, glues, et al.
PPE equipment — ensure COSSH safe practice at work requirements are met. A secure vending environment contains materials safely. Also ideal for issuing protective gloves, glasses, etc.
Custom needs — items specific to your manufacturing process and individual requirements.
Our locker solutions allow you to check-in/check-out high value tools and assembly cell specific items.
Do you have different service levels?
Yes, we offer three layers of service:
1. As part of a whole vendor managed inventory solution where we act as your logistics partner for expert management of your inventory. See our full site at www.acornic.co.uk for details.
2. Fully managed plug-in solution, with automated restock, replenishment and reconfiguration of vending machines on-site.
3. Semi-serviced, where we provide the machines and the online inventory and tracking portal, but restocking is handled manually on-site by yourself. Restocking is automatically triggered by machine stock levels, or special requirements, with a trackable shipment then sent.
Our service ensures you never zero-out of goods.
How can I monitor my usage?
You have access to all your usage data through our online portal. Our machines have internet-enabled monitoring and tracking. Consumption is tracked and triggers a restocking order when necessary which we act upon automatically. You never have to worry about administration and stock level checks.
What are the payment terms?
We offer easy weekly or monthly billing, alongside an itemised inventory usage for transparent costings.
Check in/out locker capability
For higher value tools, large consumables, or other MRO/PPE equipment, our add-on locker allows full tracking and check-in/check-out capability for stock accountability and a reduction in wastage.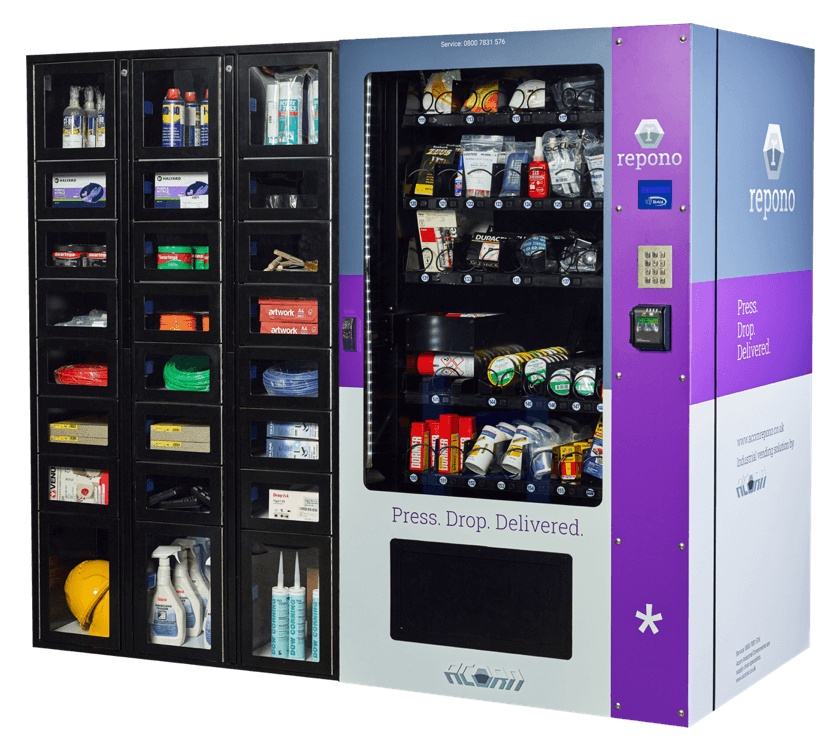 Call us direct on 01444 462462, or enter your details and we'll provide you with a free consultation to get you started.

Acorn Industrial Components are supply chain solution specialists, providing vendor managed inventory (VMI) solutions, alongside components supply, kitting and sub-assembly.
For 30+ years we've provided key sourcing and supply services. We enhance OEM supply chain performance using our specialised vendor managed inventory (VMI) process, eliminating stock-outs and supplier complexities.
Our service range
Designed to boost your back-end logistics and inventory infrastructure with open and transparent tracking and results. Warehousing and logistics capabilities as a tailored service.
Components supply
Large companies realise that adding additional suppliers to their database is not an easy task. By acting as your approved supplier we can procure a wide range of industrial components.
Third Party Logistics
3PL bundles assembly, packaging, warehousing and distribution into an integrated solution for planning, coordinating and delivering inventory. Maximise order flexibility and stock control.
Vendor Managed Inventory
VMI turbocharges your inventory management and order fulfillment. By partnering with us, you can leverage our decades-worth of expertise in supply chain processes.
Kitting & Sub-assembly
Efficient kits of quality parts integrate into your overall manufacturing process. Our client OEMs have saved days of assembly. Our component sub-assembly service also provides further efficiencies.
MRO vending solutions
A secure 24/7 solution for MRO (maintenance, repair and operations) consumables supply, it ensures full PPE compliance with an audit trail, and offers up to 50% time savings.
We are certified to the latest 2015 edition of the ISO standards for quality management, and environmental management. Acorn Industrial Components.
Supply chain solution specialists.
Freephone: 0800 7831 576 or 01444 462462.
Copyright 2020.
Digital & content marketing by Afforester
Privacy (GDPR compliance)
Units G/H, Riverside Industrial Estate
Littlehampton, West Sussex
BN17 5DF
Acorn Industrial Components Ltd is a company registered in England and Wales No. 1441238.